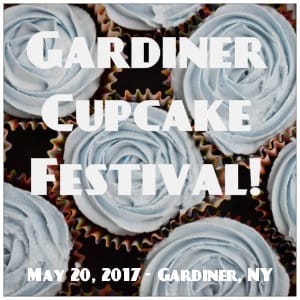 What do you get when you mix a gorgeous, historic farm with food trucks, vendors, live music and over 20,000 cupcakes? Folks, you get the annual Gardiner Cupcake Festival! If you are one of the many who admits to having a sweet tooth, you may have your parents to blame! Research done by Monell and QIMR Berghofer Research Center revealed that genetic dispositions can affect your need for sugar. While it is of course good for our health to watch what we eat, there is no harm done in enjoying a cupcake…or two…at a fun festival like this one in Gardiner, NY.
The Gardiner Cupcake Festival is an annual event and being just a half-hour from our bed and breakfast, it will be a fantastic event to attend should you be visiting with us for the weekend. The festival will be taking place May 20, 2017, rain or shine, and is suitable for all ages. If you are up for a little exercise before indulging, the entire event kicks off with the 5K Cupcake Classic. It is a run right on the festival grounds, which happens to be the beautiful, 453-acre Wright's Farm.
The festival started in 2009 and has grown in the 8 years since it's humble beginnings. It first took place right on Main Street in town and had to move to Wright's Farm because it was so popular and they needed a venue to hold all the people who kept coming year after year. Now the event boasts an amateur cupcake contest, cupcake decorating, face painting, wagon rides, zip lines, petting zoo, cupcake vendors, and other food trucks including the delicious Handsome Devil BBQ (said to be the best in the Hudson Valley!) Admission is only $5 and kids 5 and under are free.
If cupcakes aren't enough to draw you over our way, we are sure you would enjoy being spoiled by our own Dena Finneran's homemade, gourmet breakfasts. They are hands down the best you will find on this side of the Hudson Valley. Plan a special getaway for yourself or with a loved one—we can help you plan a perfect weekend or mid-week retreat. Book online today or call us for more information.