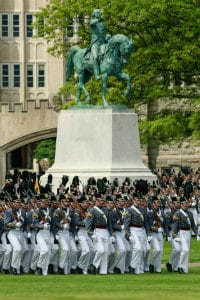 The prestigious West Point, otherwise known as The United States Military Academy, is located just 20 minutes away from our bed and breakfast in Salisbury Mills, NY. Located on the Hudson River and founded in 1802, the school is the oldest of the country's five federal service academies. Students that attend are officers in training and the U.S. Army funds their tuitions in return for an active-service duty obligation. We have met many students and their family and friends over the many years that we have been in this community. We want to honor the dedicated students for their amazing accomplishments, and those who come to visit with some special rates for West Point families.
With having just 10 miles between the academy and us our bed and breakfast is a convenient place to stay. We see a lot of repeat military parents here and it is an honor to meet them, and have them enjoy a relaxing stay during their visit. There are some specific dates coming up in 2017 that are special to academy students so we have created a unique West Point Parents Package just for those who may be coming over to attend these events.
R-Day or Reception Day – when cadets report to West Point – July 3, 2017
March Back – when new cadets march back with graduates at the end of Cadet Basic Training – August 14, 2017
A-Day or Acceptance Day – when cadets have finished Cadet Basic Training and officially join the Corps of Cadets – August 19, 2017
Graduation Day – May 29, 2021 (*This date is yet to be confirmed)
Our West Point Parents Package includes stays at our bed and breakfast on July 2 & 3, 2017, August 14, 2017 and August 18 & 19, 2017; plus 4-nights surrounding May 29, 2021 with rates locked in at our 2017 pricing. In addition to complimentary parking and Wi-Fi, you will also enjoy complimentary three-course gourmet breakfasts each and every morning. This package starts at $2550.00 as pricing varies upon room choice.
We would love to give you more information about this amazing package or all of the fun things to do and see right in our backyard during your stay. You can make a reservation directly online or feel free to call or email us with any questions you may have. We look forward to seeing you this summer!