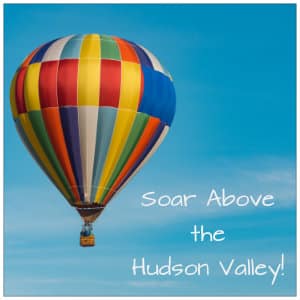 Life is too short to not make amazing memories, wouldn't you agree? Many of the folks we meet come to the Hudson Valley because they know they will go home with stories to share and experiences they will never forget. Many do come for the ultimate getaway in rest and relaxation, as our bed and breakfast offers just that. Yet, others come for adventure and today we've got one that will have you over the moon. Well, not quite but high enough to get a view the average Joe will never experience. We are talking about a balloon ride and it just might be the next adventure you have been waiting for.
Above the Clouds is a hot air balloon company located in New Hampton, NY, just 30 minutes away from our bed and breakfast. When you find yourself at 3,000 feet over the treetops, you want to be sure you are in good hands and these folks are the best. After 30 years in the business they have a perfect safety record without a single incident. Each pilot is certified by the FAA with a commercial license and participates in regular training.
Their baskets can accommodate up to 8 people and are safe and comfortable. Flights are http://abovethecloudsinc.com/why-fly-above-clouds-hot-air-balloonsweather dependent and always take off at sunrise when the winds are the calmest. You can choose from a 20-30 minute flight or a longer, 45-60 minute flight that also includes a champagne toast at the end. When you land a chase vehicle will take you back to your starting point. Sweeping views of the lower Hudson Valley, rolling hills, streams, and the New York skyline on a clear day—what an amazing way to start the day.
If you want to plan a memorable proposal weekend, anniversary or birthday getaway, try a one-of-a-kind balloon ride experience. Book your room with us online today and contact us should you need any assistance in planning the perfect Hudson Valley vacation.