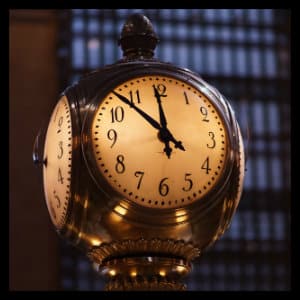 A tradition sung at the strike of midnight, the song, "Auld Lang Syne," means, "times gone by." In a moment the entire year's span of memories flash and the hope of what is to come follows. Did you know that the Times Square New Year's Eve Ball was first dropped in 1907 after there was a fireworks ban? Or, that eating black-eyed peas on New Year's Day is considered to bring good luck? While it may not bring you luck to celebrate this special evening in the Hudson Valley, one of the biggest parties in the area is happening at the nearby Anthony's Pier 9. If you are still looking for the perfect place to be keep reading!
Anthony's Pier 9 New Year's Eve Gala is one the best places around to ring in the New Year. Located in New Windsor, just 15 minutes from our bed and breakfast, Anthony's is hosting a top notch gala that all starts with a deluxe cocktail hour from 7-8pm. You'll enjoy a top-shelf open bar throughout the evening but during the cocktail hour you'll dine on an impressive chilled hors d'oeuvre display, appetizers from around the world and contemporary butler passed bites. Then the gourmet dinner will go from 8pm-12:30am with classic antipasto, choice of amazing entrée, and amazing dessert sampler, When the countdown begins you will be given a champagne toast complete with party favors and noise makers. If that's not enticing enough, your ticket to this gala will also provide a breakfast bag to go! Music, dancing, fine dining, and elegant atmosphere—this New Year's Eve Gala is a great way for our guests or those visiting the area to celebrate. Guests must be 21 years old and you can purchase tickets online.
For your convenience, Uber has just become available in our area – perfect for guests who desire the ease of not having to drive and park and want to play it safe after an evening of celebrating. Once your feet have had enough dancing you can retreat to your private guest room at our B&B. Our luxurious rooms provide the ultimate relaxing escape. Enjoy a glass of wine by the fireplace, watch more of Dick Clark's New Year's Rockin' Eve on your large, smart HDTV and then wake to the best gourmet breakfast you'll ever have in your life—trust us when we say that our own chef Dena truly creates homemade masterpieces in her kitchen—it's one thing that brings guests back to us year after year! Whether for an end of the year celebration or a getaway to start 2018 off right, we would love to host you at our romantic home away from home. You can book directly online or contact us anytime for more information.