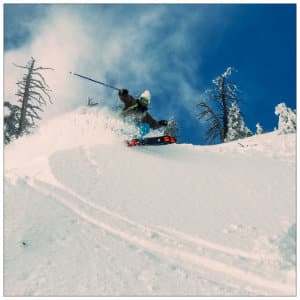 There has been some bitter cold air sweeping through some parts of the country – hope you are staying safe and warm wherever you may be! For some, the cold and winter snow beckons for some winter fun and if you are coming our way, we've got some great places near our bed and breakfast where you can enjoy skiing, snowboarding and snowshoeing.
A great ski area nearby is Mount Peter in Warwick, just a half hour away from our bed and breakfast. It is the oldest operating ski area in New York State but a favorite among locals and visitors. They have 15 trails and 5 different ski lifts and with the purchase of a lift ticket you can get free beginner ski and snowboard lessons. The ski hills are just a few feet away from the Appalachian Trail and the expansive views of the Warwick Valley make it a nice, scenic place to be on the slopes.
The Holiday Mountain Ski and Fun Park, located in Monticello, NY is a great family friendly ski area that is perfect for all levels. Just 45 minutes from us, this park also offers some great beginner lessons should you need them. Seven trails and 4 chair lifts, ice-skating, and tubing give you plenty to do here for a day outdoors.
The Mountain Trails Cross Country Ski Center is a little over an hour away from us, but worth the trek if you don't mind a little road trip. It's a beautiful winter wonderland in the Catskill Mountains that offers great cross country skiing and snowshoeing. The 300-acre area offers 35 km of groomed trails that are track-set and marked to their degree of difficulty. They have a rental shop full of everything you'll need to get you outdoors. They currently need a bit more snow before opening to the public, so be sure to check their website for the most updated information.
After a day of winter fun, you'll want a relaxing, luxurious room in which to retreat. Look no further than our elegant bed and breakfast in Salisbury Mills. Our historic home is quiet and romantic and offers all of the modern amenities to make you feel at home. We are near the Hudson River, incredible restaurants, shops, and so many things to do and see. We offer guests the ultimate winter retreat. Book online today or contact us anytime for help in planning a memorable winter vacation to the Hudson Valley.