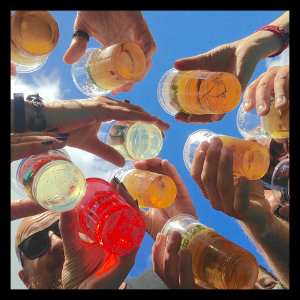 If you are on the lookout for a great place to bring your family or a group of your favorite friends, your hunt is officially over! There is no better place than the Hudson Valley for memorable getaway. Whether you want peace and quiet, outdoor adventures, shopping galore, or restaurant experiences that you'll write home about, you'll find what you are looking for here. We've also got a never-ending list of incredible events going on such as these two below. If you are a fan of local craft beer and cider, these two are for you!
Hudson Valley Cider Festival at Barton Orchards
The count down is on for this cider festival, happening June 2, 2018. This is the 4th anniversary for this festival and it keeps getting better year after year. Barton Orchards is a beautiful local farm located in Poughquag, NY, about 45 minutes from our bed and breakfast. This premium and very popular event will showcase over 40 delicious ciders from some of the best Cideries across the country! A general admission ticket gives each person entry to the event at 2pm, unlimited cider samples until 6pm, and access to live entertainment, an array of delicious food truck vendors and games.
Lower Hudson Craft Beer Festival at Growler & Gill
Also taking place on June 2nd, this craft beer festival will feature 100 brews from over 50 breweries. Growler & Gill is a fantastic local spot that is a mix of craft beer gastro pub/tasting room/bottle shop all in one. General admission is $50 and each attendee will receive a souvenir tasting gill along with the opportunity to sample all of the unique craft beers. Choose between a 1-4pm and a 5-8pm admission. You can also splurge on a VIP ticket for $85 that offers one-hour access to rare/special beers and hors d'oeuvres plus three hours under the general admission tent. Joe D'Urso and Josh Casano will be providing live music all day and amazing BBQ from Bailey's Smokehouse will be available for purchase. Nothing like a great afternoon with friends, music, beer and bbq!
Our bed and breakfast is the perfect choice for your home away from home—elegant, luxurious, private, and with all of the amenities you need to feel relaxed and spoiled. You'll never forget the homemade breakfast our very own Dena will serve each morning! Book your next spring or summer getaway today and contact us anytime if we can help you plan a vacation tailored to your specific needs and desires. We look forward to hosting you soon!