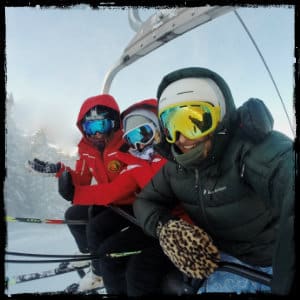 The minute winter arrives many start the countdown to being able to get outside and enjoy the snow! We know some of you are probably snowbirds and flock to warmer weather but many of the guests who come for a winter getaway absolutely love all the winter fun to be had here in the Hudson Valley. Skiing is one activity that can be quite costly depending on where you go. Did you know that just 20 minutes from us is a popular local ski area? The Victor Constant Ski Area is just perfect for guests that come for a getaway and want to get out on the slopes for a day of fun.
We have spoken of the West Point Military Academy often here in this blog—whether about the fabulous Eisenhower Hall, taking a tour of the campus, or hosting families in town visiting their cadet. Today, we are highlighting the Victor Constant Ski Area, which is West Point's own local winter resort. They are now open to the public and offer a Triple Chair Lift, Full Equipment Rentals, Private Lessons, Full Service Cabin with Fireplace & Snack bar, and 3 Runs and Bunny Hill.
It's not the Swiss Alps or the majestic Colorado mountains but a greatly designed local hill, perfect for those who just want to flex their skis a bit. It's perfect for all ages as they offer both easy and challenging runs. Through January 1st they are open Monday-Friday 9am-5pm and then they will be open Monday-Friday 3pm-9pm, Saturday 9am-7pm and Sunday 9am-5pm. You can rent any equipment you need here and take lessons if you are new to the sport or want to try something different such as snowboarding. They've also got designated tracks for cross country skiing and snowshoeing.
Come have some winter fun! It's good for the soul! We'd love to host you for a fabulous winter getaway. Book direct with us through our online reservation system or contact us anytime for information about our bed and breakfast or the amazing Hudson Valley area.