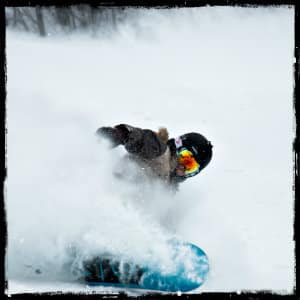 Did you make a New Years' Resolution? Spend more time with friends and family? Travel more? Get to the gym more? For many, being more active and getting healthier is top of the resolution list. Did you know that you can burn around 400 calories an hour doing some moderate downhill skiing? Many of our guests love adventure and come looking for the best things to do outdoors near our bed and breakfast. We've had some great snowfall this winter so far and a fantastic local ski hill nearby called Mt. Peter Ski Area. Come for some winter fun!
Mt. Peter Ski Area, located in the heart of the Hudson Valley, is the oldest operating ski area in New York State. Why hop on a plane to Utah or Colorado when you can hit the slopes close to home? This place may not have all the bells and whistles as compared to a major resort but it's a well-run ski area with helpful staff, great instructors, and slopes for all levels. If you are looking for a place with fewer crowds and reasonable prices, this is it.
It's a fantastic place for beginners as well – whether you are trying to ski for the first time or want to hang up your skis and give snowboarding a try. They are famous for their free beginner lessons on holidays and weekends but they have lessons and packages of all kinds. All instructors are certified Mountain School instructors. When you are ready to hit the slopes, they have 14 trails; 5 green, 6 blue, and 3 black diamond. If skiing or snowboarding isn't your thing, try tubing! It's a blast! They have a fast, multi-lane 600-foot tubing run that is also equipped with a carpet lift so you don't have to haul your tube back up yourself!
Mount Peter is a great place to hang out with friends or meet new people. So, grab your loved one, family members, or favorite friends and come for a winter extravaganza weekend at our bed and breakfast. Ski, snowboard, tube, hike, shop, eat, play, rest, relax, sleep in, eat some more (because the gourmet breakfasts here are to die for!) Your adventures are endless! Book online today or contact us anytime for more information.