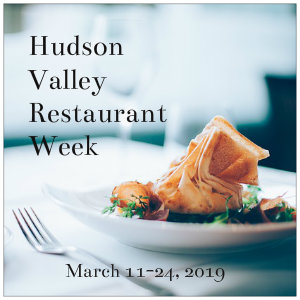 Winter may still be here, but we are already looking ahead to the wonderful return of one of our favorite times of year! Yes, the first day of Spring will be March 20th but before that is the spring edition of the Hudson Valley Restaurant Week! If you have been looking for any excuse to skip town and come our way for a getaway, this week is your ticket out!
Whether you are a true foodie who can sit down and pick out each and every ingredient in the meal before you OR you just love a great meal out with friends, Hudson Valley Restaurant Week has something for everyone. This year it will be taking place March 11-24, 2019 and it is when over 200 of the best restaurants in the mid and lower Hudson Valley band together to offer guests special 3-course meals. During this event, these 3-course meals will be offered at a fraction of the price you would normally pay and the chefs often pull out all of the stops to make their best impressions. New inventions, new twists, new ingredients, old favorites taken up a notch…you get the point!
It is strongly recommended that you take a glance at the participating restaurants and make your reservations early. You can visit hudsonvalleyrestaurantweek.com for more information. We've also highlighted a few spots near our bed and breakfast to give you a start!
Reservations to Make Right Now!
Fin & Brew – Located on the Hudson River in Peekskill, NY, just 30 minutes from our bed and breakfast. They specialize in seafood and American comfort cuisine and will be offering a fantastic restaurant week meal with options including shaved root vegetable salad, pilsner-steamed mussels with house-cured bacon, spicy charred octopus with smoked yogurt, bone-in pork chop over grits and apples and more.
A Tavola Trattoria – This is a rustic Italian restaurant also about a half-hour from us. Their farm-to-table style with a focus on quality local ingredients makes them a popular choice in the area. You'll enjoy fresh breads, homemade pastas, incredible desserts and more. They will be posting their restaurant week menu soon!
Baja 328 – Located in nearby Beacon, NY this popular restaurant the most delicious, authentic Southwestern food. They also have the largest selection (110-plus!) of tequilas to pair you're your meal. Just a quick glance through their current menu will give you an idea of the kind of meal you'll be treated to during restaurant week!
Come on over to the Hudson Valley and kick off spring in style with a stay at the most romantic bed and breakfast in town! Book direct through our website today for the best rates and contact us anytime for further information.