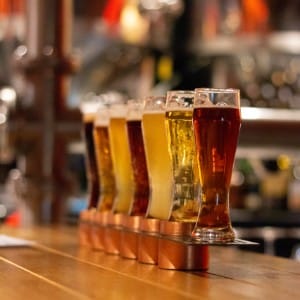 The Hudson Valley has long been respected as a hub for culinary diversity and for being home to a myriad of award winning chefs. One landmark in the area, which is considered to be "one of the best incubators in the world for leading culinary professionals" is the Culinary Institute of America. The Culinary Institute of America's Hyde Park campus offers tours, and is located less than an hour from our Caldwell House Bed & Breakfast. The CIA is not just for students looking to advance their professional careers. It also offers a chance to dine at one of their four award-winning restaurants. They also offer some fantastic events throughout the year such as "A Brewery Tour and Tasting" coming up next month.
The Brewery at CIA is actually an educational microbrewery and has been doing so well that they garnered the title for New York State Brewery of the Year for 2019. A CIA article shares, "two student-produced beers earned gold medals competing against professional breweries in their respective categories at the New York State Craft Beer Competition." While the brewery is primarily a classroom where students learn about everything required to produce ales and lagers, they are opening up to the public on October 3rd, 2019 for an exclusive tour and tasting event. Advanced reservations are required so if you are interested, we encourage you to book your room at our B&B today so you are guaranteed the best accommodations during your stay. The event is 4pm – 6pm and visitors will experience a student-guided walking tour of the CIA campus followed by a brewery tour and then a tasting led by CIA Head Brewer Hutch Kugeman. It is not something that you will see available often so don't miss out!
If brews are not your thing, there are museums, shops, theaters, outdoor activities, art galleries, and so much more to explore during a trip to the Hudson Valley. Whether for a mid-week stay, weekend or even full week getaway, we can help you plan your time to make the most of every day. Our bed and breakfast is also a great place for business travelers needing a one-night place to rest and recoup before a full day ahead. Nothing will get you ready for an important business meeting than our three-course gourmet breakfasts! Booking directly through our website guarantees the best rates and we are only a phone call away if you have further questions about our inn or the Hudson Valley area.