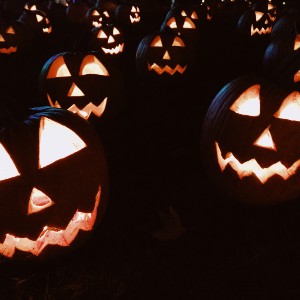 Fall is one of our favorite times of the year! While things around the country are still a bit uncertain, we are looking ahead to a great season here at our bed and breakfast! There is lots to see and do here so for those able to get to our beautiful neck of the woods, we are bringing you three ways to celebrate Halloween in the Hudson Valley.
Sleepy Hollow – Celebrate the fall season with a tour at the Sleepy Hollow Cemetery. Learn more about the talented Washington Irving & The Legend of Sleepy Hollow. The Daytime Guided Tour is a one-hour walking tour on which you will learn about Mr. Irving, his impact on American Literature and the enduring appeal of "The Legend of Sleepy Hollow." The daytime tours take place Monday through Friday in October from 11:00 a.m. – 12 noon and 2:00 – 3:00 p.m. You can also choose an Evening Lantern Tour, perfect for history buffs who would love to learn by light of kerosene lanterns. Visit some of the most impressive residents, including William Rockefeller, Andrew Carnegie, John Dustin Archbold and others resting in peace in the north end. The evening tours take place Friday and Saturday nights through November 21, plus Sunday evenings in October and early November. Note – the cemetery plans to run these tours with extremely limited capacity. Advance tickets are required; no on-site purchase will be available.
Jack O'lantern Blaze – There are so many annual events that have paused for the moment during Covid-19 but we are excited that the Jack O'Lantern Blaze continues! For guests who have not seen this event before, it is truly a one-of-a-kind Halloween event worth checking out! If you can imagine, this electrifying event features more than 7,000 illuminated jack o' lanterns, all designed and hand-carved, displayed throughout an 18th century landscape. Note – capacity is limited and advanced reservations are required. Guests must follow the COVID Courtesy Code, which includes wearing a mask at all times—even while taking pictures—and maintaining at least six feet of social distance. It all takes place at the Van Cortlandt Manor in Croton-on-Hudson through November 21st.
New Paltz – Check out a Friday Night Boos & Brews Tour! On October 23rd and 30th head over to the Historic Huguenot Street in New Paltz, NY. Starting at the DuBois Fort Visitor Center, at 6:30 pm, enjoy a glass of locally made hard cider or craft beer. Then take a walking of one of the oldest streets in America and learn about the thrilling and mysterious tales of New Paltz. You can also learn more by downloading the new Haunted Huguenot Street app on your phone.
Ready to come and enjoy a fantastic fall getaway? It's easy as one click! Book your next getaway online today direct through our website or contact us anytime for assistance in planning your stay in the Hudson Valley.