FEATURED EVENT
Members' Event: Private Walking tour of
Mark di Suvero at Governors Island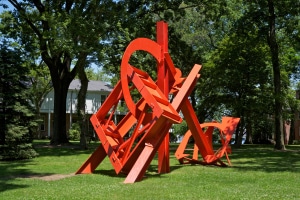 Thursday, August 16, 3 pm
Please join President John P. Stern and Director and Curator David R. Collens for a private walking tour of the acclaimed exhibition Mark di Suvero at Governors Island: Presented by Storm King Art Center.
Sponsor Members and above.

Mark di Suvero and Socrates Sculpture Park:
Four Tours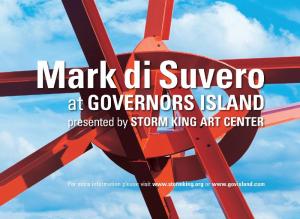 A collaboration between Storm King Art Center and Socrates Sculpture Park.
In honor of the 25th anniversary of Socrates Sculpture Park, co-founded by Mark di Suvero, artists who have exhibited at Socrates will give tours of the di Suvero exhibition and talk about ways in which their productions intersect with his.
Rob Swainston: Pedal Social Practice
Saturday, August 12, 2 – 5pm
Artist Rob Swainston leads an easy, waterfront bike ride on Governors Island. The ride will be punctuated by "Stop and Look" moments at which participants may explore buildings and landmarks through "SeeSlow"- outdoor drawing at a leisurely, contemplative pace-and discuss how waterfront neighborhoods are being transformed by development and gentrification. Public art and social practice will be explored through a discussion of arts programming and community-building projects at Governors Island. Participants must bring their own bicycles and helmets. No drawing experience required!
Participants are also invited to join Swainston earlier in the day for a bike ride from Socrates Sculpture Park to Governors Island. Visitors may meet-with bicycles and helmets-at the Sculpture Park at 10 am, or later at stops along the way. Detailed information may be found at seeslow.net.
Jory Rabinovitz: Sculpture Dérive
Saturday, August 18, 3pm
Sculptor Jory Rabinovitz leads a dérive on Governors Island. Popularized by French theorist Guy Debord, a dérive is an unplanned journey through a landscape, usually urban, on which the subtle aesthetic contours of the surrounding architecture and geography subconsciously direct the traveler(s), with the ultimate goal of encountering an entirely new and authentic experience. In the spirit of the dérive, Rabinovitz will create sculptural footwear for participants' peregrinations through the Island landscape.
Janelle Iglesias: miniature GIANTS
Sunday, August 19, 1pm
Artist Janelle Iglesias offers a workshop in which children and families create abstract geometric sculptures inspired by work in Mark di Suvero at Governors Island: Presented by Storm King Art Center. Instead of steel, this workshop will use simple recycled household materials, such as tubes, plastic caps, string, wire, paper, and cardboard, to create whimsical sculptures with simple moveable parts. Participants will investigate scale by considering di Suvero's sculptures in relation to the size of their own bodies. By first creating tiny versions of themselves as measuring tools, participants will then build miniature gigantic sculptures.
Lan Tuazon: The Rules of Seduction in 11 Sculptures
Sunday, August 19, 3 pm
On a guided tour of eleven of Mark di Suvero's sculptures at Governors Island, sculptor Lan Tuazon presents the art of seduction as way of understanding modern sculpture. The tour investigates the formal qualities of each work, relating them to the eleven rules of the "pick-up game." Blast last-minute resistance, know the kiss-close, and learn what disarming obstacles look like in heavy metal!

Beekeeper Tours
of Peter Coffin's Untitled (Bees Making Honey)(2012)
Saturdays at 12 pm, 1 pm, & 2 pm
Storm King's beekeeper leads tours of the beehives that are installed as part of artist Peter Coffin's project Untitled (Bees Making Honey) (2012). Participants will learn about the ways that honey bees make use of the sun's light, and will take away a sample of local honey. Space is limited on each tour.