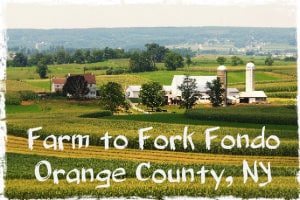 If you have a love for cycling, hopefully the title of this blog has sparked your curiosity, particularly if you love a good farm to table meal. If you are new to the world of biking, you may be wondering what in the world a Fondo is all about? The Farm to Fork Fondo in Orange County is going to be a once in a lifetime opportunity so keep reading for all the details on this wonderful event.
First of all, a fondo, which is actually usually called a "gran fondo," is a kind of cycling event that originated in Europe. It can encompass a whole host of different aspects but is usually a mass start timed cycling race over a long, challenging route (usually 100 miles or more) with tons of fans and a great post-race party. There is always a ton of energy and excitement at a Gran Fondo no matter where in the country it takes place.
The Farm to Fork Fondo is coming up June 27-28, 2015 and will be featuring Cedar Lakes Estate and Bianchi Bicycles. The entire passion behind this race is to pay tribute and celebrate the diverse agriculture right here in Orange County. All of the money raised for the Farm to Fork Fondo Volunteer Competition will be donated to local Orange County farms and farm organizations.
For the "fork" portion of this event, Lisa Karvellas, head chef at Cedar Lakes Estate will be providing gourmet culinary masterpieces made from locally sourced ingredients and Colavita Italian specialty imports. For the "fondo" portion, 500 racers will join the women of the Colavita | Bianchi Professional Cycling Team on a challenging course. Aid stations will be set up at several local farms where you will be able to grab a quick, delicious hors d'oeuvres. You can find the rest of the weekend's schedule of activities on the website or call (518) 662-0211.
This is a really unique race and is limited to only 500 riders so we encourage you to sign up quickly if you want a spot. Our inn is approximately 40 minutes away, making us a wonderful pit stop for rest and relaxation for the race weekend. Book online today or give us a call!