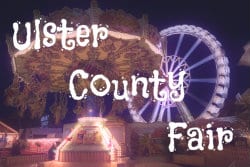 Delicious food, exhilarating rides, amazing entertainment, family friendly activities, and a whole host of fun! What is it we are describing? The Ulster County Fair of course! If you happen to be near New Paltz, NY or staying with us during July 28 – August 2, 2015 then you need to swing over and enjoy the fun.
This wonderful county fair has deep roots as its history began back in 1869. A few men held a small agricultural fair with some horse racing and it was such a success it just kept on going, getting bigger and better every year. It has stood the test of time and remained a community standard despite floods, drought, disease, heat, famine, and war.
Daily entertainment includes Dr. Rock's Dinosaur Adventures, Robinson's Racing Pigs, Circus Incredible with the Wallenda family, Garden Tractor Pull, Truck Pull, and Horse Show. Two crowd favorites are sure to be the Wednesday evening Fireworks Show and the Masters of the Chainsaw Carving Competition—this 45-minute show will give you a behind the scenes look at how these creative artists sculpt their wooden masterpieces.
Parking is free at the fair and all entertainment is free with your admission ticket. The headlining acts this year include Thunder Ridge, The Swon Brothers, John Michael Montgomery, Caroline Kole, Keith Anderson, and the popular and energetic Willis Clan. It is going to be a week to remember, so plan your trip now!
Our bed and breakfast is just under 40 minutes away making us the perfect choice for your home away from home during your time in the Hudson Valley—close to the action but far enough away to enjoy some true peace and relaxation. Reserve online and contact us for further booking information.