What kind of art grabs your attention? Have you ever passed by an artist's painting hanging in a window and been drawn in by the masterful use of color or been moved deep down in your soul while watching dancers tell a story on stage? Perhaps music is what stirs you…the creative combination of notes played by a musician that can fill a room with the most beautiful sound you have ever heard. The Hudson Valley has vibrant arts communities all over and there is a wonderful festival, the CCCA ArtsWalk, coming up that we want to tell you about.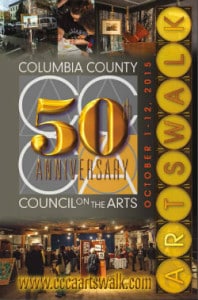 The Columbia County Council on the Arts (CCCA) is celebrating its 50th (Golden!) anniversary this year and they wanted to honor this milestone with a series of arts events that everyone could enjoy. The annual CCCA ArtsWalk is the region's largest arts festival that celebrates the Hudson Valley's most inspired and innovative artists. The festival will be taking place from October 1-12, 2015 in Hudson, NY.
To honor and celebrate the literary arts, you will have the privilege of hearing readings by the region's best selling poets and authors. The performance side of things will bring incredible live music and dance events and the marketplace will have fine arts and crafts and fun and exciting activities for children. The storefront windows of shops along Warren Street will be displaying member-artist's works in the Windows on Warren & Beyond! portion of the festival. In addition to all of this will be a Student Playwriting Festival, the Olana Plein-Air Paint Out and Auction, beginning October 3rd, and a special cocktail reception and auction of each Olana-themed masterpiece on October 5th. All of this is in conjunction with Hudson Valley Bounty's annual Chili, Cheese and Cider Fest at the Riverfront Park in Hudson.
Here is something fun as well—if you have a CCCA membership card there are several fine retailers, restaurants
 and service establishments that are offering
 10-20% discounts on your purchases. You can find information on how to join and a list of participating places here.
If you will be traveling in for this incredible festival, we would love for you to call our gorgeous bed and breakfast home during your time here. Our rooms are spacious and luxurious and offer peace and privacy! Book online today or contact us for further information.