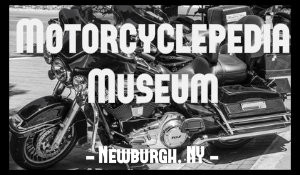 Did you know that there were many early versions of the motorcycle that date back to 1867? An American named Sylvester Howard Roper invented a two-cylinder steam powered bicycle in that year and many consider this the first motorcycle. It was a German man named Gottlieb Daimler who figured out how to attach an engine to a wooden bike and thus had invented the first gas-engine motorcycle. Then in 1903, the Harley-Davidson Motor Company was launched! All of this rich history is what the Motorcyclepedia Museum in Newburgh, NY is all about.
The Motorcyclepedia Museum, about 20 minutes from our bed and breakfast in Salisbury Mills, opened in 2011. Taking up 85,000-square-feet of space in the old Miron building, the galleries house memorabilia and motorcycles from various time periods. You will find over 500 motorcycles dating back to 1897, including Harley Davidson, Chopper City, Indian Timeline, and Police and Military Motorcycles. One of the most coveted bikes in the museum is the 1897 De-Dion Bouton, which happens to be the oldest running motorcycle in North America.
At the museum you can also view three Motordromes, or "Walls of Death," as they are more commonly called—two on the lower floor and a third outside in the parking lot. These are large upright wooden cylinders in which a rider will end up riding a motorcycle up the side of the vertical walls in a clockwise motion and reach speeds of nearly 40mph. It really is an incredible sight to see. The museum also has several events throughout the year including warehouse sales and the Hudson Valley Wingfest, coming up January 30, 2016.
If you are a motorcycle fanatic or would simply enjoy seeing an impressive collection of bikes and memorabilia, we encourage you to visit this museum the next time you are staying with us. We still have some room left for those thinking about getting in a Thanksgiving or Christmas holiday getaway—you can book online or contact us for more information. Don't forget to check out our amazing specials as well!