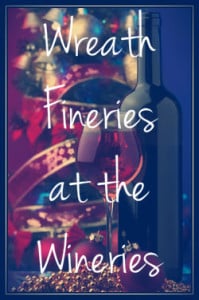 Just like chocolates go with Valentine's Day, turkey goes with Thanksgiving, and wine goes with Christmas! Well, we know there is of course Santa, carols, lights, gifts, trees, and much more when it comes to the Christmas season but if we are going to talk holiday season events, it seems fitting to talk about a wine event such as the Wreath Fineries event with the Shawangunk Wine Trail Wineries.
In case you are new to the wine community of the Hudson Valley, the Shawangunk Wine Trail is comprised of 14 amazing wineries that can be found nestled between the Hudson River and the Shawangunk Mountains. Each winery is unique and produces award winning white wine, red wine and distilled spirits. The wineries also team up to offer visitors some fantastic events throughout the year and the Wreath Fineries is definitely a holiday favorite. It is a self-guided wine tasting tour where you pick a date and a starting winery.
When you check in at your starting winery you will receive a souvenir wine glass, a grapevine wreath and an ornament. Then you simply travel along the wine trail and enjoy a tasting at each one and receive a new special ornament for your wreath at each one as well! The wineries will have wonderful holiday gifts for sale as well so you can do some shopping along the way or stock up for your own holiday table! You will want to purchase tickets in advance and we suggest doing that as soon as possible as many options are selling out.
Event Details:
Dates – Sat-Sun, Nov 21-22, Dec 5-6, Dec 12-13, 2015
Time: 10am – 6pm
Location: Shawangunk Wine Trail Wineries
Tis' the season! The Hudson Valley is full of wonderful activities and attractions so book a well-deserved holiday getaway today. Sneak away for a mid-week retreat or escape the hustle and bustle and relax with us for the weekend. Our romantic inn offers the perfect accommodations for any occasion.