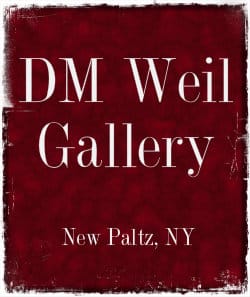 The Hudson Valley has city streets all over that are filled with antique shops, jewelry stores, award-winning restaurants, vintage clothing and furniture stores, and an impressive number of incredible art galleries. It is truly a haven for those with passion and creativity and it is home to one incredible artist named DM Weil.
According to guest reviews on Trip Advisor, the DM Weil Gallery holds the top spot for things to do in New Paltz, NY. When others rave about their experience, you can be confident it will be a day well spent. DM Weil started winning drawing contests when she was 9 years old and her talent exploded from there. In 2004 she discovered a passion for using acrylics and started painting bright bold images on canvas. Her first painting sold in 2005 and by 2011 she had built the DM Weil Gallery, a 3000 square foot museum style space that showcases her work.
Weil's paintings are dramatic and are truly alive with color. If you love contemporary art you will thoroughly enjoy visiting here and the artist is often available to give you a tour and explain the process of going from painting to print and the stories behind her pieces. The gallery is bright, warm, and welcoming and all of the paintings showcased are engaging and inspiring to look at. Complimentary wine and espresso is served and you can also take a tour of DM Weil's adjacent studio if you are interested in learning more about the artistic process. Both DM Weil's originals as well as paper prints are available at reasonable prices. The best part of all is that admission here is free!
Spend an enjoyable afternoon at the gallery, grab dinner nearby and relax with a glass of wine in your suite back at our bed and breakfast or enjoy a game of chess in our Game Room. We still have room available during the holiday season so book your winter getaway today!