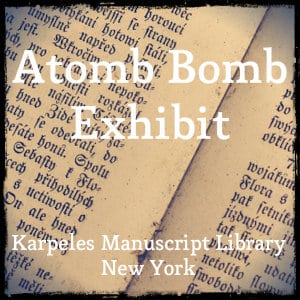 We love going the extra mile for our guests and one thing we love to do is find great places to visit and things to see. If you have a passion for history we highly encourage you to make a visit to the Karpeles Manuscript Library in Newburgh, NY.
The Karpeles Manuscript Library, if you aren't familiar with this incredible place, happens to be the world's largest private holding place of important original documents and manuscripts. At first glance, you might be wondering how this museum is any different than all of the others across the country, but trust us, this one is a cut above the rest! There are several locations across the country and some of the archives include Einstein's formula, "E=Mc2," the original draft of the Bill of Rights of the United States, Roget's "Thesaurus," Webster's "Dictionary," and over one million more.
Until April 28, 2016 they have an amazing exhibit on display called The Atomic Bomb: How the Japanese Press Reported the Atomic Blast. The Atomic Bomb exhibit highlights the event that many historians believe brought an end to World War II. The Atomic Bomb that was dropped on Hiroshima on August 6, 1945 will forever be etched as one of the most massive turning points in world history. In this exhibit you will view an incredible collection of maps, documents, letters, discoveries, and events about that day. Get an in-depth look at the navigators' minute-by-minute log and read about the components of the bomb and how it works. The best part is that admission is free!
We have some fantastic weather going on here in the Hudson Valley and an abundance of things to do some plan a memorable mid week or weekend getaway. Book online today or feel free to contact us for further information about our romantic bed and breakfast.