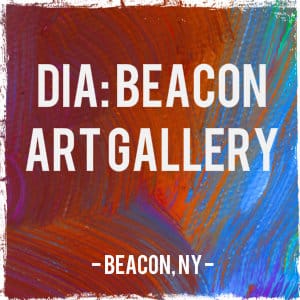 Amidst the almost innumerable places to see and visit in the Hudson Valley, we have some pretty amazing museums and galleries where you can view incredible art. While you may be more geared to adventurous outdoor activities or window-shopping down the various main streets, we encourage you not to miss out on some truly impressive art that can be found in the area. The Dia Art Foundation has a beautiful museum in Beacon, NY along the banks of the Hudson River that is worth seeing.
Dia: Beacon opened in 2003 in a converted printing plant that was originally built by Nabisco in 1929. The museum, which boasts 240,000 square feet of exhibition space, sits on 31 acres of gorgeous land next to almost 100 acres of riverfront parkland. So in addition to housing an incredible collection of art, its setting is also stunning.
Because the space in this museum is so expansive it is well suited to large-scale collections, paintings, and sculptures. One particular exhibition that is going on right now is Robert Irwin's Excursus: Homage to the Square³. Irwin is a light and space artist and this piece of art, which spans 72 feet long by 67 feet wide, consists of sixteen rooms of light and scrim installation. White fluorescent tubes are partially covered in colored theatrical gels, and are then mounted vertically in pairs at the center of each room's walls. It is a maze like creation that alters a viewer's perception of space and optics.
Museum hours through March are Friday – Monday from 11am to 4pm and then starting in April they will be open from 11am to 6pm, Thursday through Monday. General admission is $12, seniors are $10, students are $8, and children under 12 are free. Dia: Beacon is just over 20 minutes from our elegant bed and breakfast and a great place to spend an afternoon during your visit with us. We've got some gorgeous spring sunshine happening around here and would love to have you spend a midweek or weekend getaway with us. Book online today or contact us for further information.