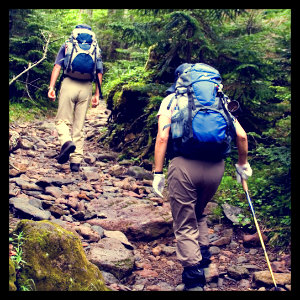 With the warmer temps rolling in and the beauty of the Hudson Valley coming alive, it is prime time to get outdoors. We thought it would be a great time to provide a mini series on hiking the Hudson Valley. Did you know that hiking could burn around 370 calories an hour? It improves your fitness and bone health, reduces your risk for several diseases, reduces stress, and helps you sleep better! Combine all those benefits with some of the most beautiful views in the country–it's time to grab your boots and poles!
The gear, snacks, water, and determination will be on you but below you will find some fantastic hiking trails to check out that are each near our bed and breakfast. These are great options for any level of ability.
Constitution Marsh/Indian Brook Falls
To get to this area you will want to head south on Route 9D from the village of Cold Spring. Take the second right after Boscobel to get to the Constitution Marsh parking area. We want to note that you can only park in the lot or you are subject to fines and towing. Just a quick 5-minute walk up Indian Brook Road will take you to the old gate for the waterfall trail. You'll make it to the falls after a short easy hike and you may want to bring a camera along to snap some shots—it really is a beautiful spot. If you are up for more, head back to the parking lot and follow signs to get to the marsh. Then there are blue diamond trail markers to follow. There are views of the Hudson River and West Point along the trail and a favorite destination is the Constitution Marsh Boardwalk. Overall, this easy hike is about 1.5 miles round trip.
Storm King Mountain
We think guests will really enjoy this 2.5-mile loop trail, which rates about a 6 out of 10 on the difficulty scale. A few steep, rocky sections will offer a nice challenge to those looking for some adventure. You will want to allow approximately 2.5 hours for this loop. As you climb and circle the mountain, you will come across several spots with fantastic views in all directions. There is a parking area on Route 9W from Newburgh and you will want to be on the lookout for the Orange Trail. Note: you have to drive three miles past the trailhead to the cloverleaf at the exit for Rt 218/ Rt 293, and then drive three miles back to safely get to the parking lot, as it is illegal to turn left when you first see the trailhead.
Are you ready to get out and hike? We'd love to host you for a mid-week or weekend getaway this spring or summer so gather up your gear, grab some friends and come on over for a memorable getaway in the Hudson Valley. Don't forget to come back next week for Part 2 where we will share about some even more amazing hiking spots!
To read more hiking guides visit Hike the Hudson Valley, a website founded by hiking enthusiast Mike Todd, who set out to provide descriptions, ratings, and photographs of over 68 trails in the area in the hopes of getting others hooked on Hudson Valley hiking.
P.S. Ask us about our Caldwell House hiking backpack. We can fill it with water, wine, cheese, sandwiches, and snacks. Call us in advance and we'll have it ready for you when you go for your hike!