During each season of the year, the Caldwell House Bed and Breakfast hosts guests from all corners of the world seven days a week. It is such a blessing to see old friends return and meet new ones. Our fantastic location in the lower Hudson Valley is rich in history and provides a truly never-ending list of things to and places to see. Award winning restaurants, outlet malls, a myriad of wonderful wineries, museums and tons of outdoor fun is right outside our front door.
We started this series to give you a glimpse into a "day in the life of a Caldwell House guest." Whether our guests come in for a day, weekend or longer, it is a pleasure seeing what adventures they go on and helping them along the way. We love to be a part of your time here in Salisbury Mills, NY and since we know all of the hot spots, best places to eat and drink and favorite activities of guests in the past, we can be your personal travel consultants! Last week we highlighted what you could do on a Monday so today we are bringing you what a Tuesday could have in store.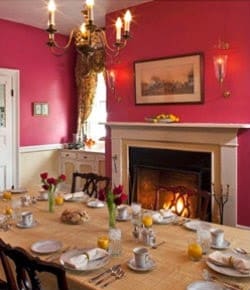 We make sure you start the day off right so what better way than a full three-course homemade breakfast served in our formal dining room. Owner Dena is a creative and caring chef that continues to surprise us with the delicious dishes that come out of her kitchen! You may be treated to peaches and crème, homemade chocolate chocolate chip muffins, and eggs Benedict casserole with hash browns. We can also accommodate any special dietary need, so please let us know.
With your energy replenished, a great way to explore the beautiful Hudson Valley is through a day of hiking. John and Dena can direct you to paths and trails that are close by and help you find one based on how much of a challenge you want to take on. The Black Rock Forest Trail is a 4.3-mile trek that takes you through the beautiful Hudson Highlands preserve. The Storm King Trail will give you some spectacular views and the Walkway Over the Hudson, the longest raised pedestrian walkway in the world, is a great place if you want an easy walk with a coffee in hand.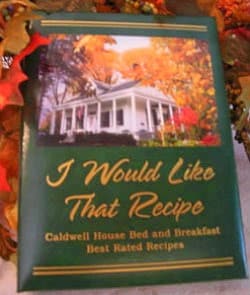 At the end of the day, make your way back to the Caldwell House Gift Shop. We have many wonderful things to choose from including hats, wine glasses, and coffee mugs. A perfect gift to bring home is a few bottles of Hudson Valley wine with a set of wine glasses. One of the most sought after gift is a Caldwell House cookbook filled with around 200 recipes and all of Dena's secrets! You can learn to make her Irish Soda Bread or Crème Brûlée French Toast and not tell a soul where the recipe came from-it really is a treasure you will want to pass down.
It's great to share about our wonderful bed and breakfast and all that the Hudson Valley has to offer. Read out our post about Mondays and check back soon to see what is coming up for Wednesdays!