We hope you have been enjoying our fun series on all that you can do when you stay with us at The Caldwell House Bed and Breakfast. We are so fortunate to not only have the beauty of the Hudson Valley surrounding us but to also have a never ending list of options when it comes to dining, shopping, activities, outdoor adventures, rainy day fun and more. We meet people from all over the world who make their way over here for all kinds of reasons. Whether for family reunions, romantic getaways, mid-week business stopovers, graduations or sporting events, we truly enjoy getting to know each and every guest.
So, here we are again and this time we are highlighting Thursday! There is no shortage of fun things to do on any given day but here is a glimpse on the possibilities that are in store should you be gracing us with your presence on a Thursday.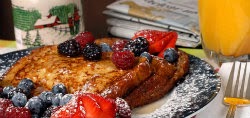 First, you will be treated to a gourmet breakfast that will have you itching to come down to the dining room simply by the aromas that come from owner Dena Finneran's kitchen. A sample breakfast might include baked pineapple, harvest muffins, and a breakfast pizza with savory bacon—such a perfect way to start the day! If you have time and would like a little history lesson, ask John to give you the history of the Caldwell House and family—a great tale steeped in tradition that will give you a new appreciation for the love within the walls of this great place.
You will have just enough time to make your way over for the 11 am tour of West Point. This two-hour tour of the historic United States Military Academy (which opened the same year the Caldwell House was built) explores the Main Cadet Chapel, Trophy Point, Battle Monument, the Plain, Old Cadet Chapel, and the West Point Cemetery. Wear some good shoes, as it will be about an hour and twenty minutes of walking.
You will definitely build up an appetite and a great place for a good old home-style cooking type of lunch is The Park Restaurant in Highland Falls. This place has fabulous food in a great, relaxing atmosphere. You'll find burgers, sandwiches, seafood, steak and more. You can finish up with ice cream and souvenir shopping at The Ice Cream Shoppe.
In the afternoon, check out the West Point Museum—it is free and has what is considered to be the oldest and largest public collection of militaria in the Western Hemisphere. MacArthur's Riverview Restaurant at The Historic Thayer Hotel is a great place to have dinner. This gorgeous restaurant with old world charm has a fantastic menu full of signature dishes you will enjoy. At the end of the day, many of our guests enjoy relaxing by playing some games in the game room and then if you are still up for one more outing, top the night off with a little walk down to Loughran's Irish Pub for some live Irish music and cold beer.
Sounds like a perfect day if you ask us! Check our previous posts about Monday, Tuesday, and Wednesday and come on back next week for a look at what lies in store for a Friday at the Caldwell House! If you would like more information or for reservations, don't hesitate to call us at 845-496-2954.