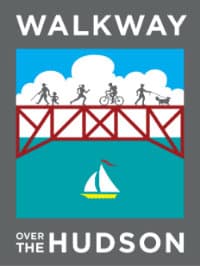 Are you one to stop and smell the roses? We understand how fast time flies—life gets busy with work, responsibilities and all that comes our way every day. We run a successful inn and put our all into making each and every guest have the best stay possible so we understand being busy! It is important though to take the time to stop and slow down and in our area of the Hudson Valley, one of the best places to do this is the Walkway Over the Hudson.
The Walkway over the Hudson is an impressive bridge that spans the Hudson River between Poughkeepsie and Highland. It was built in 1889 and started out with the purpose of being a double track railroad bridge. There is a lot of history surrounding this bridge—one fact is that it was an important avenue for war freight traffic during World War II and U.S army soldiers had to guard it 24 hours a day. After being damaged by fire in 1974 it was taken out of service but it wasn't long before it made it onto the National Register of Historic Places. After a lot of funding and creative visions from a non-profit group who knew this would be an incredible attraction for locals and tourists, the bridge was fully restored and reconstructed. It opened to the public in 2009 and is the longest footbridge in the world! It is 212 feet tall and 1.28 miles long and is open year round. There is now an East Pavilion, a Mobile Web Tour, and an elevator that connects the Walkway to Upper Landing Park and the Poughkeepsie Waterfront. This allows you directly be in the center of the walkway.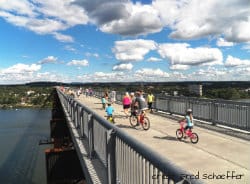 You can take a guided tour if you would like to learn more about the history of the bridge and surrounding area and there are several events throughout the year including the Walkway Marathon, Movie Nights, and 4th of July Fireworks Spectacular. If you are free this coming weekend, this is one place to see fireworks like you have never seen before!
The Walkway is close to our bed and breakfast making it a great place for our guests to get out and see the true beauty of the Hudson Valley. It is absolutely breathtaking in the fall so you may want to think about your fall getaway now. If you have further questions or would like to book a room for a summer getaway you can do both directly through our website.