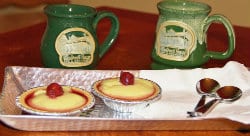 Staying at a bed and breakfast is the perfect choice for accommodations when you need a relaxing, private escape. There are many reasons to choose a B&B over a hotel including fantastic seasonal specials, many free amenities, luxurious and spacious suites, homemade gourmet breakfasts, top notch care and attention, and you often pay less for more compared to your standard hotel. We are blessed to host guests from all over the world at our inn and one special way we say welcome and thank you at certain times of the year is with our Pie on the Pillow.
This one-of-a-kind special treatment is part of our turn-down service and you won't find anything like this at the hotel down the street. Sure, a chocolate mint is a nice touch but owner Dena Finneran wanted to make an impression and offer something that would truly surprise guests at the inn—a delicious, miniature pie made fresh in her own kitchen with ingredients and fruits from the local Hudson Valley markets. Dena, co—owner of the inn with her husband John, is a true culinary artist and finds the time to make each individual pie in addition to her to-die-for morning breakfasts. This her favorite time of the year!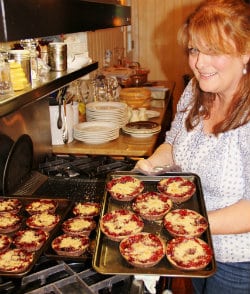 This unique Pie on the Pillow service will only be for a limited time this fall so you will not want to miss out on a night at the inn. You can even call ahead and request your favorite to enjoy before your night of sleep if you wish. Some of the types of pie that will be flowing out of the kitchen include blueberry, peach, nectarine, pecan, apple, pear, and several crumble pies. Delish!
Check out our 2015 Pie Calendar!
With many great events and activities going on this fall, we encourage you to book your stay with us before we fill up so you can take advantage of this special turn-down service. You can book directly online or contact us for further information.