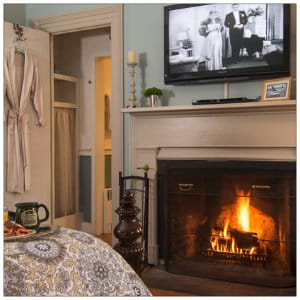 How many plates are you spinning right now? Has the holiday season got your running on empty? We know how it can be – things are busy here too! Family time and friends and fun all wrapped in one can bring a lot of joy but can also leave you feeling a bit depleted. We are here to come to your rescue! Whether you are living the city life or are just ready for some simplicity in your life, we invite you to our neck of the woods in the lower Hudson Valley for a mid-week retreat that will bring rest and renewal.
We are sure 2018 is going to bring all sorts of challenges, good and difficult for each one of us, so why not start things off right with some time to focus on YOU? The weekends can be busy with more people out and about, the traffic is worse, the restaurants are more crowded, and the pace just quicker. Mid-week however, things slow down and it's a great time to sneak in a little getaway.
We've got some fantastic restaurants nearby—just tell us your culinary preferences and we can steer you in the right direction! We've been to them all and our guests report back from their experiences so we've got some good inside scoop on the best places to try. There are also some fantastic award-winning wineries near us as well – including Brotherhood Winery, the country's oldest, offering our guests opportunities to enjoy wine tastings and tours. The largest outdoor sculpture park, Storm King Art Center, open April through November, is just minutes away and then you have all the places to shop like the Woodbury Common Premium Outlets or the Warwick Antique Barn (great for those looking for items for their own fixer-upper). For the history buff, nothing beats a day at the United States Military Academy at West Point touring the campus and wandering through its incredible museum.
Of course, you just also just stay put at our elegant and romantic bed and breakfast. Our guest rooms provide all of the amenities you need to fully relax and feel pampered. You can also schedule ahead with one of our licensed therapists to enjoy an on-site massage. Our kitchen's master chef, Dena, will make sure you are treated with the most scrumptious, homemade breakfast you have ever had.
If you are ready for an escape where you can recharge and unwind—in a place that provides the best home away from home feeling—look no further than our amazing bed and breakfast. We'd love to see you!
We wish all of our amazing family, friends, previous guests, and new ones to come a very Merry Christmas and happy New Year!