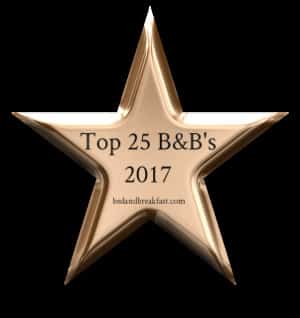 "Don't worry when you are not recognized, but strive to be worthy of recognition."
– Abraham Lincoln
Running a successful bed and breakfast takes hard work and dedication but when you love what you do, it all comes easy. Commitment, dedication, passion, and a true love for serving people is behind why we do what we do here at The Caldwell House Bed & Breakfast. We count it as a privilege to provide people with a home away from home during their time here in the Hudson Valley and honestly; our guests are often the ones blessing us! Normally we take the opportunity to share about the events going on or the amazing things to do and see here but today, would you allow us to brag just a little?
Every year Bedandbreakfast.com compiles a list of the Top 25 B&B's for that year. We just got word that we have been included on this exclusive list for 2017! How amazing is that?! We don't do what we do for a pat on the back or lofty recognition but this is a big deal and it is a testament to the passion we have to serve people here in our little corner in Salisbury Mills, NY. We are so excited to receive our plaque that will commemorate this award and will display it proudly in our home. The finalists for this list are chosen based on a qualitative and quantitative analysis of traveler reviews on BedandBreakfast.com, and then a panel of guest judges chose the final winners.
We just wanted to share this honor with you so you could celebrate with us. This award truly is shared with all of our amazing guests that have chosen to stay with us and given us the opportunity to help them create memorable stays here in the Hudson Valley. If you'd like to read more, you can read the article here. If we haven't had the pleasure of meeting you yet, we highly encourage you to book a stay with us and see for yourself why so many return year after year to experience what this area has to offer. Thank you all for a wonderful 2017 and with this year already off to an amazing start, we look forward with anticipation to all it will bring.