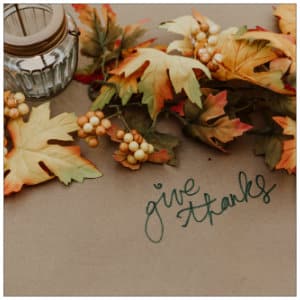 For some the holidays are filled with family, friends, memories, and traditions. We know that others though, may have a different story. Perhaps you live far away from your family and friends, or maybe this year has been filled with some hard difficulties and to celebrate just doesn't seem fitting. There also may be others of you that can enjoy a delicious Thanksgiving dinner with company and then you are happy to part ways and enjoy some free time for a few days. Whatever your situation, we want you to know that you are welcome to spend some time with us at the Caldwell House.
What about a dine and dash? Or eat and retreat? If you have plans for Thanksgiving Day but then have a free schedule come for a quick holiday stay at our bed and breakfast! We still have some rooms open throughout the holiday week and weekend and we can assure you that some time spent away will be true food for your soul! In addition to the comfort and luxury that our rooms offer, our in-house chef Dena will pamper you with homemade breakfasts that you'll want to write home about. All fresh local ingredients, gourmet (sometimes secret!) recipes made with love that will make you feel like you're at a table fit for a king or queen.
What kind of stay would you like to have? Whatever your interests, we can help you plan out your time so you are as busy or as relaxed as you want to be. When guests come to truly escape, many enjoy the amenities our B&B has to offer. Enjoy a glass of wine and a good book by your in-room fireplace or challenge your loved one to a game of Chess or Checkers in our Living Room. If you want to explore the city, we can show you exactly where to go by car or train for an amazingly fun day trip. Right around us is the Storm King Art Center, the Brotherhood Winery, the United States Military Academy at West Point, Culinary Institute of America restaurants, and the Woodbury Common Premium Outlets to name just a few attractions.
It's not too late to plan a Thanksgiving holiday. You might be thinking, "It's less than a week away!" We still have some rooms available and we would love to be your hosts for a memorable stay. We even have a Shop 'Til You Drop package going on right now too! Book today and make the most of this season with a trip to an incredible small town and a stay at the best bed and breakfast in the Hudson Valley.