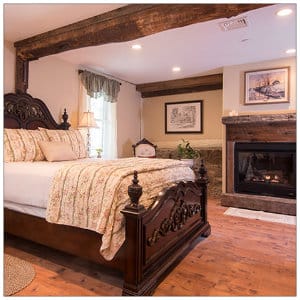 The winter months can be cruel, often keeping us indoors, which can lead to the cabin fever blues. Depression, boredom, irritability, or moodiness can be the reactions from confinement, bad weather, routine, or isolation. Who needs that? We've got the cure if you are dealing with some winter blues or a case of cabin fever after the hustle and bustle of the holidays is winding down. Come spend some time away at our wonderful bed and breakfast in Salisbury Mills, NY.
Wouldn't you agree that there is something about having an event to look forward to that just perks up your spirit? Check your calendar, find an open weekend or even a couple mid-week days that you can sneak away and book a getaway to our bed and breakfast. If you want an intimate atmosphere with top notch service and amenities, then skip the chain hotel and come stay with us. Our historical property offers guests beautiful rooms (unlike the cookie cutter hotel room) with gorgeous furnishings and décor. You'll receive personal hospitality, an authentic experience and of course, the most incredible gourmet breakfast each morning.
Our location offers an abundance of attractions and activities within just a few minutes' drive. Like art? Check out the Storm King Art Center (open one weekend a month during the winter) or the Sugar Loaf Arts and Crafts Village. Like amazing food? Try a CIA Restaurant or one of our favorites such as Blu Pointe or the Vinum Café. Like to shop? Try the Woodbury Premium Outlets or the Warwick Antique Barn. One of the best parts of staying at a B&B during a vacation is the innkeepers have the best inside scoop on things to do.
Cure your cabin fever with a memorable winter getaway to the Hudson Valley. You can book direct with us through our online reservation system or contact us anytime for further information.
In the meantime, while waiting for your getaway to our bed and breakfast, some other ways to beat cabin fever are: go on a date night, check out a local theater, try a new recipe and plan a special dinner, invite some friends over for wine and a new board game, or tackle a home improvement or organization project!