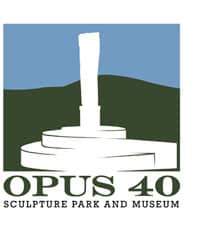 While the Hudson Valley is overflowing with incredible art centers, theaters, and museums, which we share about often on our blog, we love highlighting the hidden gems that many may not know about. The Opus 40 Sculpture Park and Museumin Saugerties, NY is one of those gems that we highly encourage you to visit if you are passing through or looking for a fun road trip for a day during your stay with us.
From our bed and breakfast, Opus 40 is about an hour away – but a scenic, relaxing trip that will give you a new look at highlights of the Hudson Valley on your way. People that have visited this unique park have used the words beautiful, inspiring, and enchanting to describe their experience. The spectacular visual display here will have you mesmerized and truly inspired as you experience the work of art that the artist has created.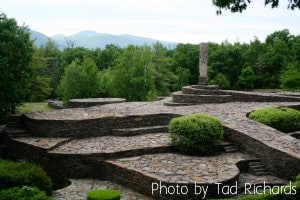 The history of this sculpture park revolves around one man named Harvey Fite. He was one of the founders of the Bard College Fine Arts Department and the purchase of an abandoned quarry for $250 was the beginning of a work of art that took him 37 years to complete. Opus 40 is a 6-½ bluestone sculpture that was created entirely by Fite's two hands. He used a technique from the Mayans to create a landscape masterpiece of indigenous bluestone. You can walk all over swirling terraces surrounded by fountains, pools, and lush trees. It is simply breathtaking and awe inspiring as you explore one man's life work.
Owners John and Dena would be happy to pack a picnic lunch for your afternoon or share a favorite restaurant to try on your way. Don't let summer pass you by without making a special getaway – book online today or contact us for further information.