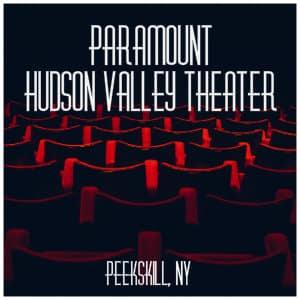 Maxine Greene, an American author, teacher, philosopher and social activist once said, "The arts, it has been said, cannot change the world, but they may change human beings who might change the world." The arts are a vital part of every community and we are very proud of the vibrant and valued arts scene that we have here in the Hudson Valley. We have a fantastic theater not far from our bed and breakfast called the Paramount Hudson Valley Theater that offers superb shows all year long.
A beloved landmark, the historic Paramount Hudson Valley Theater in Peekskill, NY, first opened its doors in 1930. The Paramount Symphony Orchestra gave the inaugural performance and the village mayor made a grand appearance. Originally named the Peekskill Paramount Theater, it was a state of the art facility from the beginning. It weathered some ups and downs over the years but remains a special place that brings top-notch live music and performing arts shows. This beautifully restored theater is a smaller venue that offers guests an intimate atmosphere with great sound and there's not a bad seat in the house.
If you are looking for an idea where to spend a great night out with friends, check out the upcoming shows at the Paramount. The following is just a small list of what they have coming up:
November 19, 2016 – Darlene Love
November 25, 2016 – Jim Brickman
November 26, 2016 – Felix Cavaliere's Rascals
December 2, 2016 – Westchester All Stars Christmas for Veterans Concert
December 4, 2016 – An Evening with Chris Botti
December 17, 2016 – The Colonial Nutcracker
December 31, 2016 – Shadows of the 60's Tribute to Motown's Super Groups
Looks like a great lineup for the fall and into the holiday season. Make plans for a memorable Hudson Valley getaway – there is so much fun to be had!