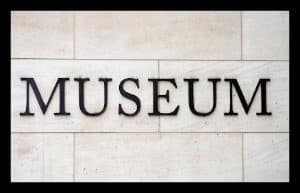 Do you have any traditions that you do to keep your family history alive? It might be something as simple as a story that is shared with each grandchild about a time in the past. I think we can all agree that it is important to keep family history alive through each generation but it is important to keep learning about the history of our nation so we don't lose all that has come before us. Whether or not you are a true history buff or have a penchant for presidential history, we highly encourage you to make a visit to the Franklin D. Roosevelt Presidential Library & Museum the next time you are with us in the Hudson Valley.
The FDR Presidential Library & Museum is located in Hyde Park, NY—about a 50-minute drive from our bed and breakfast in Salisbury Mills. While a bit of a drive to get to this place, it is an impressive museum that will enlighten you on the life of president Franklin D. Roosevelt and events that went on during his time. The museum has something for everyone so all ages will be entertained—it's a great place to bring your kids if you are up for giving a little history lesson.
You truly get to peek inside a window of history as you can look at real handwritten and typed documents such as reports about Pearl Harbor and a letter from King George about Winston Churchill. The exhibits about the Great Depression and WW2 era are fascinating. There are rarely seen artifacts, short films, and interactive maps and experiences such as the touch screen experiences at the Oval Office display throughout the museum. It really takes you back in time as you learn about different countries, meetings that took place, maps that were studied, and timelines of battles and decisions that made a difference in the history of our nation.
Through the end of March the museum will be open 9am-5pm and starting in April it will be open one hour later until 6pm. They offer a joint admission ticket that costs $18, which gives you access to the FDR Presidential Library and Museum and the Home of Franklin D. Roosevelt. You can tour the library on your own and there is a park ranger on site to guide guests through the home. Your ticket is valid for 2 consecutive days.
This is just one of the many museums in our area—we are so blessed to have several museums, galleries, art centers, theaters, and other cultural and historical places to visit around our bed and breakfast. If you are interested, we could even help you plan a history tour the next time you come and stay with us! You can book your suite directly online or contact us anytime for further information about our inn or the amazing Hudson Valley.