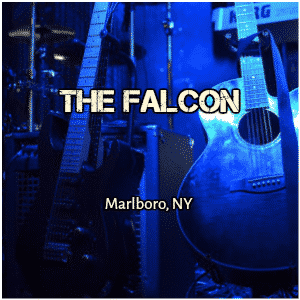 When visiting a new area, it is always smart to ask the locals where they go to eat and have fun. Sure, a quick Google search will get you some ideas but we all know that the best places are usually those unknown, hidden, mom-and-pop type places that are doing things right. Just a half hour away from our bed and breakfast in Salisbury Mills you'll find one of the best live music spots in the Hudson Valley. The Falcon, located in Marlboro, NY, is a rustic, intimate venue where you can hear some fantastic live jazz and enjoy some great American fare.
The Falcon has a great history. It started out in the early 19th century as a Methodist church. After some time as a community center in the 1990's a visionary and musician named Tony Falco ended up tearing the building down but saved some of the beautiful architectural pieces and built a magnificent building behind his own home. He started the "private house concert series" in the upper floor of the building—a true concert hall if you will but the size of a listening room. He provided gallery walls to local painters and photographers and talented players from all corners of the music world played here. It wasn't long before Falco had to find a new space and he landed on the perfect spot—a 19th century button factory in hamlet of Marlboro. It has become one of the most respected music venues in the area featuring all genres including rock, blues, jazz, world music and contemporary chamber music.
The Falcon also boasts a New York Taproom + Beer Garden, called the Falcon Underground. You'll find a great gastro-pub menu complete with crafted, small-batch New York beers, ales, wines and spirits. Everyone is welcome and there is no cover charge or minimum. 100% of donations are also given to straight to the musicians. If you are a fan of great American food and live music, this is a place to check out. They also offer a delicious Sunday brunch. If you go, we'd love your feedback in the comments box below. Or if you are a guest at our bed and breakfast, let us know so we can keep future guests informed on the best places to visit when they come to the Hudson Valley.