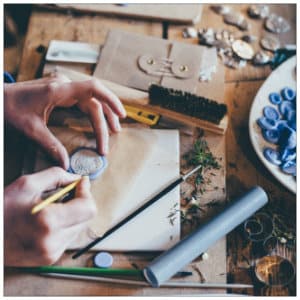 They say, "home is where the heart is," but if that is not where you want to see yourself this holiday season then come on over to the Hudson Valley! If you are looking for a festive getaway, there is no better place than our romantic and charming bed and breakfast nestled in the heart of Orange County, NY. We are minutes away from the Brotherhood Winery, Storm King Sculpture Park, West Point Military Academy, countless award winning restaurants and an abundance of things to do. One of the best places at which to kick off the holiday season is the quaint village of Sugar Loaf.
We've mentioned Sugar Loaf in the past as it has much to offer throughout the year but during the holidays, it's particularly special. This hamlet, as many call it, is a unique village of artisans and vendors. Near the picturesque Sugar Loaf Mountain, this village offers people an intimate view into the world of handmade arts. It became a thriving crafts center in the 1970s and now is home to dozens of independent businesses. Everything here is within strolling distance so you can grab a delicious hot latte, cup of coffee or hot chocolate and window-shop to your heart's content. The boutique shops offer all kinds of things you won't find in the large chain stores—definitely a place to find that perfect gift for the hard-to-buy-for Aunt who's name you picked from the hat. The dining options are wonderful and the atmosphere is just beautiful and peaceful.
If you will be staying with us on December 9th, you'll definitely want to make a stop at Sugar Loaf as they will be hosting their Holiday Celebration complete with horse-drawn wagon rides, holiday carolers, tree lighting, refreshments, photos with Santa, and more. You'll also want to take advantage of our amazing Holiday Season Starter Package—a festive package that is only available until December 31st! Book your holiday vacation online today and contact us anytime if we can assist you in planning the perfect Hudson Valley getaway.