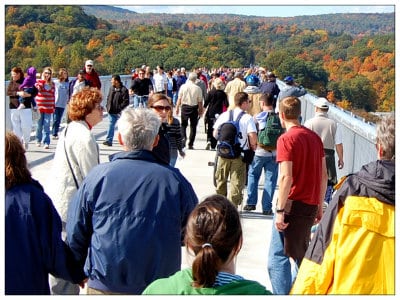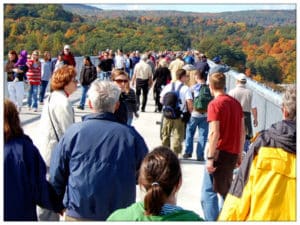 Sometimes a good breath of fresh air is all you need to feel like everything is right in the world, don't you agree! We are back with our final "Top Attraction" in the series we have been doing the last several weeks – make you sure you go back to see them all as we covered a lot of ground! For guests thinking about a trip to the Hudson Valley, our blog is a great starting point to find out the best things to see and do. Today, we are featuring the Walkway Over the Hudson State Historic Park—a great place to be outdoors and see some incredible views along the way.
Located in Poughkeepsie, NY and around 40 minutes away from our bed and breakfast, the Walkway over the Hudson really is a must see when visiting the area. It really is a unique and exciting experience to walk along this walkway – where you can see several miles up and down the Hudson River. If you are looking for a beautiful view of the Hudson Valley, this is where you want to be. At 1.28 miles in length, it is the world's longest elevated pedestrian bridge. At either end of the walkway are miles of trails and parks, historic districts to explore, shops and restaurants.
If you want to experience the full span you'll need about an hour. You can walk as far as you are comfortable of course, and the walkway is wide enough to accommodate many walkers and bike riders at the same time. Along the way you'll find informative posters that describe the bridge and how it was transformed from a railroad bridge to a walkway. Even on a nice day, it can be windy up there so you may want to dress accordingly. There is an elevator for anyone with a disability, however it is currently closed and will reopen in the spring.
Before booking your next getaway be sure to check our specials page as we add new ones regularly! We would love to meet you and provide you with an amazing Hudson Valley vacation. Book online today and contact us anytime for more information about our accommodations or the beautiful place we get to call home.