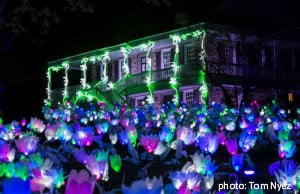 Across the United States are old homes that have become cherished historic sites that show the true heritage of when they were built. It is often the prominent families of the past who had the means to build some of the mansions and estates that we so admire today. The Van Cortlandt family is one such family from New York that built the Van Cortlandt Manor. This Revolutionary War-era manor is now a living history museum. It is a beautiful place with breathtaking gardens and you will often see guides in period dress walking through the property. You can experience the life of a patriot family first hand and see an impressive collection of furnishings from the federal and colonial eras.
To celebrate spring the Manor hosts a wonderful event called Lightscapes, which will take place over 15 different evenings during the month of May. It is a magnificent and enchanting show that the whole family will enjoy. State of the art illumination highlights works of art that have been creatively placed throughout the property. It is a springtime garden like you have never seen with larger than life creatures and flower displays that will take your breath away. Afterwards you can enjoy delicious sweets such as sorbet, ice cream, and homemade candy in the hospitality tent.
Details
Location: Van Cortlandt Manor in Croton-on-Hudson, NY
Dates: Fridays-Sundays, May 1-3, 8-10, 15-17, 22-24, 29-31
Tickets: If purchased online, Adults, $16, Children 3-17, $12. They are $2 more on site.
The Caldwell House Bed and Breakfast is about a 40-minute drive to the Manor making this a great evening out for guests that will be with us this spring. It is a great time of year to be visiting the Hudson Valley – book a relaxing, well-deserved getaway today!