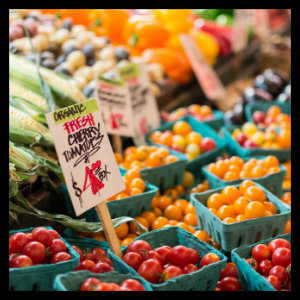 One of the things that contributes to the Hudson Valley being so unique is the vibrant scene of local entrepreneurs who set up shop here to provide locals and visitors alike with experiences, food, art, products, and more that cannot be found anywhere else. For this reason, we feel it is so important to support our local communities. When it comes to fresh, delicious food, our own Orange County has an abundance of indoor markets to check out.
In getting your fresh produce and products from local vendors here, you get to know the people behind these products, you get fantastic personalized customer service, you support the local economy and it's healthier! We have many guests that are able to stock up on all kinds of homegrown Hudson Valley products either for themselves or as great gifts for friends and family. Chemical-free fruits and vegetables, grass-fed meats, raw local honey, delicious pure maple syrup, jams and jellies, baked goods and more are just a few of the great finds at a local market. The farm markets below offer all of these types of things and even some fun things like farm-to-table events.
Jones Farm and Country Store: 10 minutes from our bed and breakfast and open Monday through Friday 8 am to 6 pm, Saturday and Sunday 8 am to 5 pm. In addition to a lot of delicious gourmet foods they also boast an art gallery and frame shop.
Stonehenge Farm Market: 30 minutes from our bed and breakfast and open year round Monday through Saturday 8 am to 6 pm and Sunday 9 am to 6 pm.
Peg's Eggs & Honey/Hillery Farms: 40 minutes from our bed and breakfast and has local vendors available on Sundays from 10 am to 2pm.
Soons Orchards-Farm Market & Apple Orchards: 27 minutes from our bed and breakfast and open Daily 9 am to 6pm. They have a special Orchard Hill Cider Mill tasting room and delicious fudge.
Pennings Farm Market: 30 minutes from our bed and breakfast and offer a myriad of products and a hard cider tap room. They are open from 9 am to 7 pm and closed Tuesdays.
One of these indoor markets is just another place you can visit during your stay with us. There is so much activity coming up this spring and summer and our bed and breakfast is hands down the best choice in accommodation during your time here. We can give you our inside tips on the best places to hit up to help you plan the perfect getaway—book online today or contact us anytime for further information.