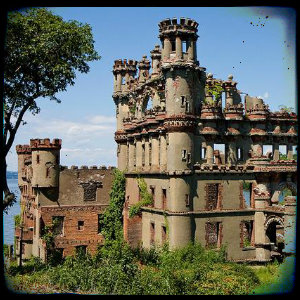 We are on the tipping point enjoying the last of the warm sunny days of summer while also anxiously awaiting the changing of the leaves, fall football, and pumpkin spice goodies. The fall season can bring a new kind of busy as work schedules fill up, family members go in all directions with school events and sports, and the lazy days of summer are over. You are going to need a light at the end of the tunnel and we have you covered! Circle a free weekend and book your time with us now for a self-guided tour of Bannerman Castle.
The Bannerman Castle on Pollepel Island is actually an abandoned military surplus warehouse. In its day, it was a Scotsman's fortress where he amassed an incredible collection of weapons. The island spans 6 ¾ acres and is 1000 feet from the eastern shore of the Hudson. The Bannerman family bough the island in 1900 and then spent 17 years building the castle, garden walls, moat, and more. The family sold it to the state in 1967 and then two years later a massive fire destroyed many of the buildings on the island.
Today there are many different tours you can take and coming up is one of their specialty tours: the Self Guided Tour with Live Music. You will take a ride aboard the Estuary Steward over to Bannerman Island where you can tour on your own while a live music concert fills the air. It begins at 11am and is a 2.5-hour experience. Tickets are $35 for adults and $30 for children under 11. The boat departs from Blu Pointe Landing, a short 20 minutes away from our bed and breakfast—making this a great local adventure to try during your stay with us.
Army West Point football is in full swing and there are six home games this season. Come for a tour, a game, a show, or to just retreat and relax! Oh – and we can't forget to mention that our always anticipated "Pie on the Pillow" special will be starting in September!