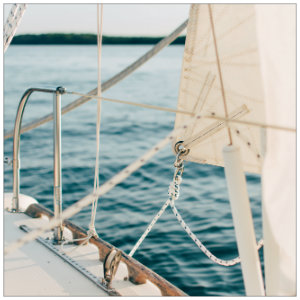 Welcome back friends! Hope everyone has been having a fantastic summer so far. Here in the Hudson Valley it has been absolutely superb! Gorgeous weather, unmatched beauty all around, buzzing activity with locals and visitors out and about enjoying all that the area has to offer. Are you looking to squeeze in every last drop of summer? If you have a weekend free before the fall creeps upon us, we want you to book a getaway right now and try out a weekend sailing course with the Croton Sailing School.
Have you ever wanted to try sailing but never thought it was possible without owning your own boat or having any friends who own one? Here is your chance! Croton Sailing School is a quick 45-minute jaunt over in Croton-on-Hudson, NY. They offer some great sailing lessons that are suitable for everyone. Surrounded by the Palisades Parklands and the entrance to the Hudson Highlands, the scenery is just beautiful when out on the water.
The courses take place aboard their 24′ Rainbow. The Basic Hands-On Sailing course provides the foundation you need to be comfortable as a day sailor. You'll learn how to rig and de-rig, use all points of sail, mooring, safety procedures, and more. You can also take advantage of their Practice Sail course if you have already completed the basic course. You set the course telling the instructor what you'd like refreshers on or what aspects of sailing are still difficult for you. This is perfect for those who are a bit rusty in their skills and would like to sail with others. Last, you can opt for their three-day Basic Hands-On Plus course, which gives you the full basic sailing course with an additional full day of practice sailing. These courses are offered every weekend through the season and typically run from 9am to 4pm Fridays, Saturdays and Sundays.
Sound like fun? Come on out and enjoy a fantastic weekend out on the water learning something new! You can rest and relax during your down time or we can offer our favorite places to check out near our bed and breakfast—your choice. Book online today or contact us anytime for further information.