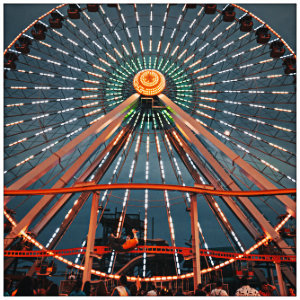 Funnel cakes, Ferris wheels, something fried on a stick, exhibits, and entertainment. Any guess what's on our mind today? A county fair is one of those quintessential summer activities and we are lucky to have the amazing Dutchess County Fair nearby! Thrills, excitement, family fun, and eating your fill of foods you just can't get on a normal day. If you have been looking for a reason to head to the Hudson Valley this summer, then this event is a fantastic reason for a memorable getaway.
The 173rd Dutchess County Fair will be taking place from August 21-26, 2018 at the fairgrounds on Route 9 in Rhinebeck. Nearly half a million folks will make their way through the grounds during the six-day event. This fair is the second largest county fair in New York State. There is a tradition of excellence that the fair organizers stand by and you'll see the results of their efforts with manicured gardens and a beautiful setting for the exhibits and displays. There is truly something for everyone at this entertainment destination with free shows and attractions at every turn. The features at the fair include agriculture, horticulture, turn-of-the-century treasures at Century Museum Village, wildlife exhibit, hundreds of arts and crafts, the Dutchess Fair Marketplace, live entertainment at the Grandstand, and so much more. You can get tickets and more information here.
We've got an extensive list of local attractions and things to do on our website to help you plan the perfect Hudson Valley vacation. Come and relax and unwind or fill your time with endless adventures—the choice is up to you! Book through our easy online reservation system or contact us anytime for more information.