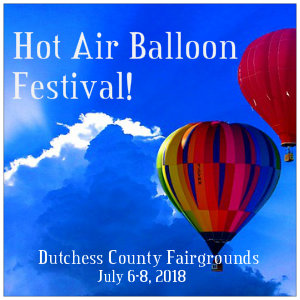 Tired of the same old? Routine is good, often necessary but if you feel stuck in a rut it's time to take a break and plan a Hudson Valley vacation! We are convenient for the city folks who want to escape the hustle and bustle and everyone who needs a place to rest, relax and have fun. If you aren't familiar with our area, the Hudson Valley stretches along the Hudson River from Westchester County all the way to Albany. It's known for its beauty, arts and culture, food, vineyards, and an abundance of things to do. Around us here in Salisbury Mills, NY, there is always a fun event to attend such as the Hot Air Balloon Festival coming up!
The Hudson Valley Hot Air Balloon Festival will be taking place at the Dutchess County Fairgrounds. This great venue is about an hour from our bed and breakfast—an easy, scenic drive north to get there. It's all happening July 6, 7, and 8th 2018 and you don't want to miss out! This festival is one of the signature community events for this region and thousands attended last year. Every year it expands to include more great activities for attendees. There will be 100 hot-air balloon launches throughout the weekend. The mass launches are scheduled for the evenings so you will want to be there for those for sure. There will also be the very popular sunrise launches on Saturday and Sunday. For just $20 you can also take a ride on a tethered balloon. Festival goers will also enjoy delicious food trucks, a variety of vendors, live bands and more. Parking is also free! An all-weekend access pass is just $23, which includes admission and access to the festival for all three days—you can come and go as you please.
Come on out for this great event! There is so much else to do—we can help you plan the perfect getaway tailored to your needs and preferences. Book online today or contact us anytime for further information about our beautiful bed and breakfast or the amazing area we are fortunate to call home!
SaveSave
SaveSave