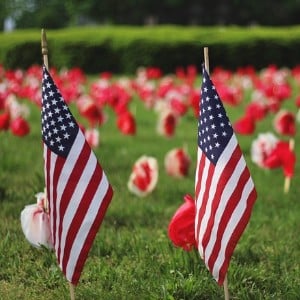 Celebrating our nation's history is important. If we don't stay with our traditions and remain informed of what happened in the past, we won't have anything to pass on to the next generation. Memorial Day is right around the corner and is not only an anticipated weekend of festivities with friends and family, it's an opportunity to honor those who have fought for our freedom. We encourage you to come for a Memorial Day getaway to our bed and breakfast in the Hudson Valley – a place where you can relax and renew but also take in some historical sites and events as well.
Did you know that Memorial Day was originally called Decoration Day? It was born out of the Civil War with a desire to honor those who sacrificed their lives. On the first Decoration Day, General James Garfield made a speech at Arlington National Cemetery, and 5,000 participants decorated the graves of the 20,000 Union and Confederate soldiers. The first state to officially recognize the holiday was New York in 1873. By 1890 it was recognized by all of the northern states and the south joined in after World War II.
We love the vast history in our state and there are many significant and important historical sites that you can visit during your stay here. We mentioned several in our blog last week. On May 26th there will also be a special event happening at the Walkway Over the Hudson, which is about 40 minutes from our bed and breakfast. This incredible walkway is the world's longest elevated pedestrian bridge, spanning 1.28 miles over the Hudson River. To celebrate Memorial Day they will be hosting, "Illuminate The Walkway: Memorial Day Flag Changing Ceremony and Walkway at Night." You can attend a moving flag changing ceremony at 7:30pm and then the walkway will be open to the public until 10:15pm as visitors can observe the thousands of paper lanterns that will be lit up and lining the walkway to honor the loved ones that have died in defense of our nation.
We can also point you to our other favorite attractions, shopping and dining spots for your weekend getaway so don't hesitate to ask for help when planning your stay with us. Book online today or contact us for further information.