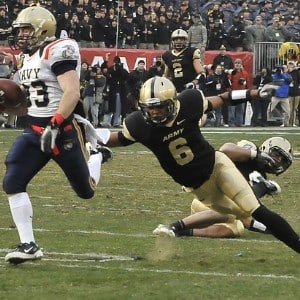 Enjoy some fantastic football in the Hudson Valley this fall! You know what that means: Go Army! The fall season is definitely not complete without an Army Football game at Michie Stadium here in the Hudson Valley. Our bed and is just 20 minutes away from the stadium and all of the game festivities making us the perfect choice for accommodations when in town for an Army game!
Michie stadium abounds in tradition. You can't help but feel pride for our country when you walk the grounds of West Point. And, if you happen to get a seat on the west side of the stadium you'll be fortunate to take in the beautiful views over West Point and across the Hudson Valley. It's a fantastic place to see an exciting football game. Watch student athletes at their finest—they play their best and they sing the winner's Alma Mater. The game day activities are a blast; from the parade to tailgating, to the entire game experience. This November, Army has two home games. Saturday, November 9th they will play the UMass Minutemen and Saturday, November 16th they will be up against the VMI Keydets.
Get fueled up on game day with innkeeper Dena's homemade breakfast (trust us when we say she's known for her cooking!). If you need some advice on how to get to the game and making the most of the day, don't hesitate to ask! While an Army game will certainly be a highlight, don't let that be all you see during your stay. Come for a whole weekend and take in the rest of the sights and sounds nearby. The fall season is simply gorgeous here—whether you want low-key or adventure we can point you in the right direction. Grab your game tickets and book direct online today!