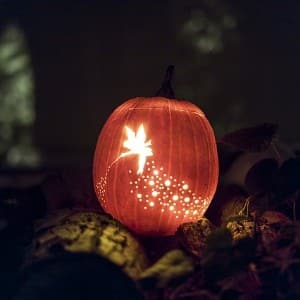 The best things are worth repeating so we don't feel bad at all about reminding you that the Hudson Valley is seriously one of the best places to visit in the fall. There are so many attractions and activities that are perfect for families or couples. Keep checking back with us here to get the inside scoop on all that's happening around our bed and breakfast. And don't forget to sign up to get our newsletter to be the first to hear about special events or seasonal packages that we are offering. Today we want to make sure that you don't miss out on the Hudson Valley's biggest Halloween event! The Great Jack O'Lantern Blaze is the coolest Halloween event with more than 7,000 intricately carved, glowing pumpkins. See below for all of the need to know information.
The Great Jack O'Lantern Blaze Details:
When?
There are select dates during the week and on weekends. Event dates for 2019 are September 20-22; 26-29; October 3-31; November 1-3; 8-10; 15-17; 22-23; 29-30!
Where?
This one-of-a-kind show is located in Croton-On-Hudson, NY, right on the Hudson River, only 40 minutes south of our bed and breakfast.
Do I need a ticket?
Yes, you do need to purchase a ticket in advance before you go. There are already several sold out evenings so don't delay! Follow this link to purchase your tickets today!
How long does it take to walk through the event?
Generally, most folks take about 90 minutes to go through the Blaze—it just depends on how long you want to stop and gaze or how many pictures you want to take!
Will there be anything to eat or drink?
There will be lots of delicious treats to enjoy! You'll find pumpkin beer, hot cocoa, cider, candy apples, freshly-popped popcorn and more.
Come enjoy a memorable fall getaway in one of the most beautiful spots in the nation. Our luxurious home away from home offers fourteen beautiful guest rooms to choose from. Why choose a run of mill https://www.caldwellhouse.com/rooms.htmlstandard hotel room when you can experience elegant accommodations with top of the line amenities and delicious homemade breakfasts? Book direct online today and contact us anytime if we can help plan your next Hudson Valley vacation.