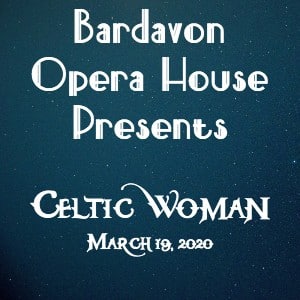 One way to make a vacation to the Hudson Valley that much more memorable is to take in one of the many shows and events happening around town. Our area is brimming with galleries, museums, theatres, live music venues, and more, all offering top-notch events throughout the year. Not too far from our bed and breakfast in Salisbury Mills, NY, is a stunning venue called the Bardavon Opera House. This theatre will be presenting the Celtic Woman Celebration and it's one event we are sure our guests will really enjoy!
The Bardavon Opera House is located in the heart of downtown Poughkeepsie, NY. Having had its inaugural performance in 1869, it is the oldest continuously-operating theater in New York State! Over the years it has presented Vaudeville performers, dance companies, silent movies, and more. Its name comes from the original Bard of Avon, William Shakespeare. You'll find a one-of-a-kind Wurlitzer pipe organ here that was specially designed for the space and installed in 1928. In 1975 it closed its doors and was on the books to be demolished, but the community rallied together to help preserve this incredible building, that is now on the National Register of Historic Places.
The Bardavon has incredible acoustics so the sound is amazing and there isn't a bad seat in the house. It is a perfect venue to see a group like Celtic Woman, coming to the Bardavon March 19, 2020. We are giving you notice now as we are sure tickets for this event will go fast! This an all-female Irish musical ensemble was put together by the former musical director of the Irish stage show Riverdance. They have released eleven albums and have truly captured hearts in audiences around the world. Their music celebrates the musical and cultural heritage of Ireland. It will be an incredible evening of music!
What Restaurants are near Bardavon Opera House?
If you would like to enjoy a delicious dinner before the show or perhaps a cocktail or dessert afterwards, you can find some restaurants near the theatre below:
Brasserie 292
The Artist's Palate
Alex's Restaurant
Main Street Pizza and Cafe
Schatzi's Pub and Bier Garden
Come and enjoy a memorable stay at our bed and breakfast in the Hudson Valley. Whether for a musical event such as Celtic Woman, great shopping, or some outdoor adventures, it truly is a destination for everyone! Book online today or contact us anytime for further information.